_______________________
Table of Contents
1. Razor Blades and Tempered Glass - A Risky Combination
Scratched windows are so disappointing. As a professional window cleaning company, we often get asked about scratches in glass doors and windows. In our recent YouTube video we described how and why some scratches appear in glass windows and doors.
Tempered glass is required in all sorts of applications for buildings of all sorts. Somewhere during the manufacturing process, the glass becomes more susceptible to scratching. These scratches frequently appear when razor blades are used during the cleaning process. This often happens on the initial construction cleaning of the windows and glass doors. Long, arcing, parallel scratches are a good indicator of this issue. If a razor blade is in proper working condition, it usually does not scratch annealed or non-heat treated glass. However, there are times when a razor blade may be the only practical way to remove stubborn debris from heat-treated and tempered glass.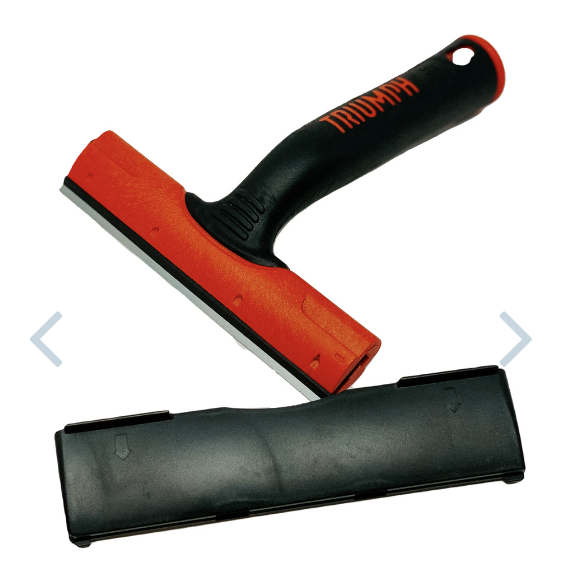 The best way to avoid scratching issues is to protect the glass during the construction process. Be sure your contractor protects the glass - often an adhesive film is used. Be sure the film is changed on regular intervals or else the material may fuse to the glass causing more issues.
If the glass has construction debris that needs to be removed with razor blades or other methods in order for the window cleaner to do their job, be aware of the risks involved. Consult the manufacturer's guidelines before using any non-maintenance chemicals or tools.
2. Scrubbing Pads
Kitchen windows often get the most buildup from splashes or splattering grease and food. The desire to use your dish sponge with its scrubbing pad to remove gunk from the kitchen windows can be hard to resist.
DON'T use scrubbing pads to clean windows!!!
Green and blue pads are too aggressive and can easily scratch windows. These pads are frequently used by amateurs and can quickly cause serious damage to the surface of your windows. There are pads and other materials that are rated for cleaning glass, but be sure to test before going "all out" on scrubbing stubborn debris. You want clean windows, not scratched windows.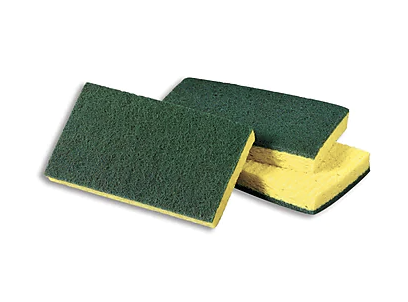 Professional window cleaning companies like ours, often use microfiber towels and a mild cleaning solution to accomplish amazing results with minimal risk of damaging the glass.
3. Diamond Rings (I bet you didn't see that coming ?)
Do you have a lot of scratches near the handle of a glass door? Rings can be a culprit for scratching those windows and doors. Diamonds and other material found in rings and jewelry are harder than the glass itself; which is a perfect combination for producing scratches. It may not be practical to avoid this cause entirely, but being aware of it can help explain why that door or window has all those scratches right at the handle.
Other Issues For Your Consideration - Especially Beach Towns Like Cayucos, California
Razor blades, scrubbing pads, diamond rings: these are common causes for scratched windows and doors. Pets that put their paws on the glass can cause scratches as well. Having too much buildup of sand and dirt on the glass can cause scratches during the cleaning process. It's often a good idea to rinse away as much sand and dirt as possible prior to scrubbing the glass during cleaning. Our waterfed pole window cleaning is a great way to help rinse away dirt and sand before and even during the cleaning process.
Learn more about our professional window cleaning company: On The Spot Window Cleaning in San Luis Obispo County, CA.
Conclusion:
Ultimately, you want to feel good and happy about your clean windows. Whether you use a professional window cleaning company or clean the glass yourself, be aware of the common causes for scratched glass and how you can prevent being the source of the damage.
There are other resources that can help educate individuals about glass scratches and glass restoration. Consider visiting these websites to broaden your education.
International Window Cleaning Association
Glass Scratch Removal Kit - How To remove deep scratches from the glass - Step by step process